English Information
English Information
Corporate Profile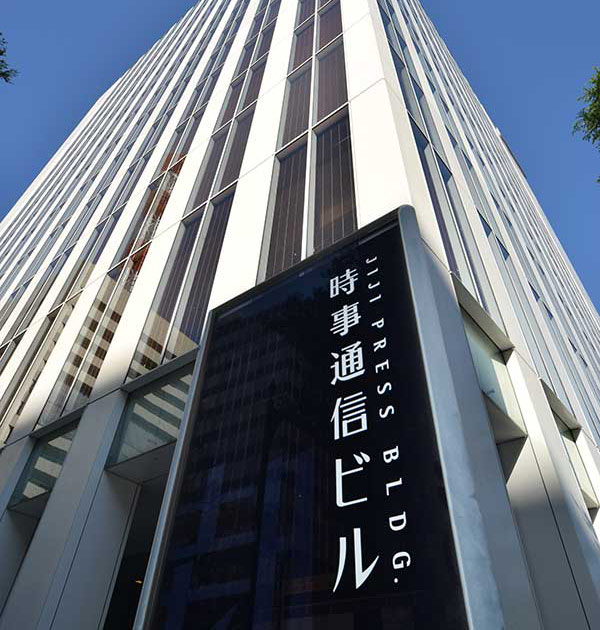 Jiji Press is a leading Japanese news agency that provides a wide range of news, data, and other information to readers in Japan and abroad.

Accuracy and speed are vital to our services for delivering up-to-the-minute news to about 140 media organizations, including newspaper publishers, broadcasters, publishing companies, and also to the general public directly via the internet.

In addition to media, we also serve a variety of subscribers, including businesses, government ministries and agencies, and other organizations, with specialized news to bring readers financial, securities and commodities market developments, as well as central and local government administration information.

Massive quantities of news and photos are filed from all over the world by Jiji Press journalists, including correspondents abroad, and by partner international news agencies such as Thomson Reuters and Agence France-Presse (AFP).

Our news services reach subscribers both in Japan and abroad, including Japanese diplomatic establishments overseas.

Jiji Press also provides wide-ranging English-language news, including political, economic and city news, to media and other organizations.

Our business domain goes beyond information distribution. Through affiliates, we also organize membership-based lectures and carry out public opinion surveys.
Major Business Operations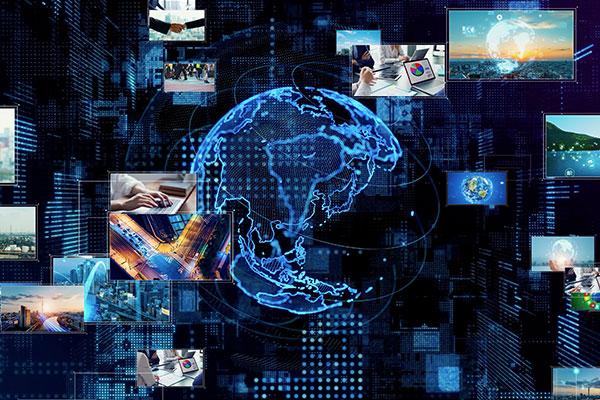 News Distribution to Media
We provide subscribers with political, economic, city, international and sports news as well as related photographs filed through our network of more than 100 branch offices in Japan and abroad as well as via partnerships with foreign news agencies.

Our news service enjoys a high reputation for being quick, accurate, concise and easy to understand.

In addition to daily news, we offer a variety of other news services, such as commentaries, columns, information for senior citizens and medical information.
We provide news on our website, as well as distributing news to portal sites and social media.

Launched in 2000, Jiji.com offers daily news articles, along with original news content about domestic and international situations and social issues. The news site is viewed by more than 15 million visitors per month.

Moreover, Jiji Press news and photos can be viewed on Yahoo Japan and other portal sites, social media and digital billboards installed at financial institutions, airports and train stations.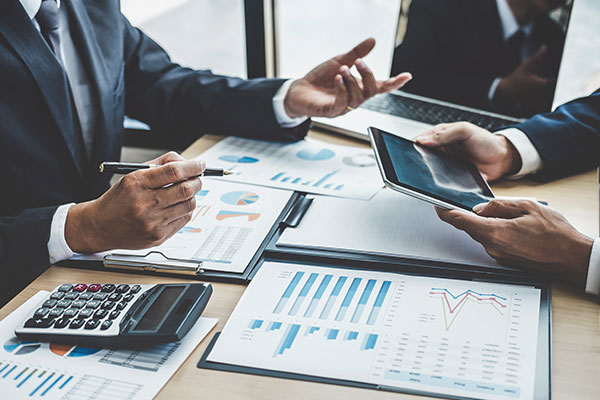 Financial, Securities, Commodity and Administrative News Services
In addition to political, economic and city news, we provide specialized news and data, including financial, securities and commodity market developments, central and local government administration, and related personnel affairs databases, to financial institutions, business corporations, government ministries and agencies, and other organizations, to help policy formulation.
English-Language News Services
Jiji Press English news service reaches the world with Japan's political, economic, city and other news. It is widely used by media and institutional investors both at home and abroad, and also carried by Thomson Reuters on its terminals across the world.

Jiji Press News on the Web, an internet-based version of the service, keeps readers abreast of the latest developments in Japan across a whole range of specialized fields. Along with economic and corporate activities in Japan, it reports important policy decisions by the Japanese government and the Bank of Japan, backed up by analyses and comments from knowledgeable people including business leaders and monetary policymakers.

The service brings together top stories and vital information from Jiji Press' worldwide news-gathering network, which extends beyond Japan to 24 overseas bureaus.

Jiji Press News on the Web has an international reputation for being quick, concise, easy to read and, above all, reliable. In an era of rapid change, it is an essential tool for Japan watchers around the world.

It is available at affordable prices, with a free trial provided upon request(https://eng.jiji.com/about_this_service.html).

History
1945

Established following the dissolution of state-owned Domei News Agency

1948

Concluded a partnership contract for economic news services with Reuters (now Thomson Reuters)

1949

Concluded a partnership contract with AFP

1952

Started English news services for overseas customers

1982

Started English economic news services

1997

Concluded a comprehensive partnership contract with Reuters (now Thomson Reuters)

2000

Launched news website Jiji.com

2003

Moved head office from Hibiya in Tokyo's Chiyoda Ward to Ginza in Chuo Ward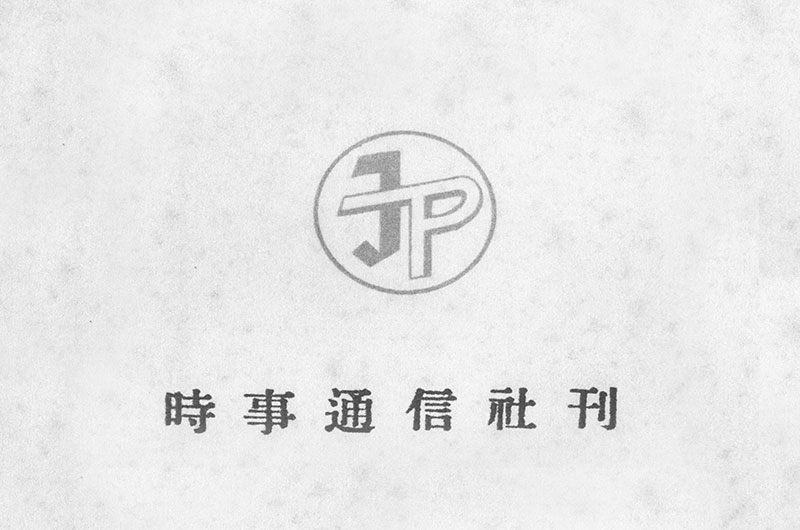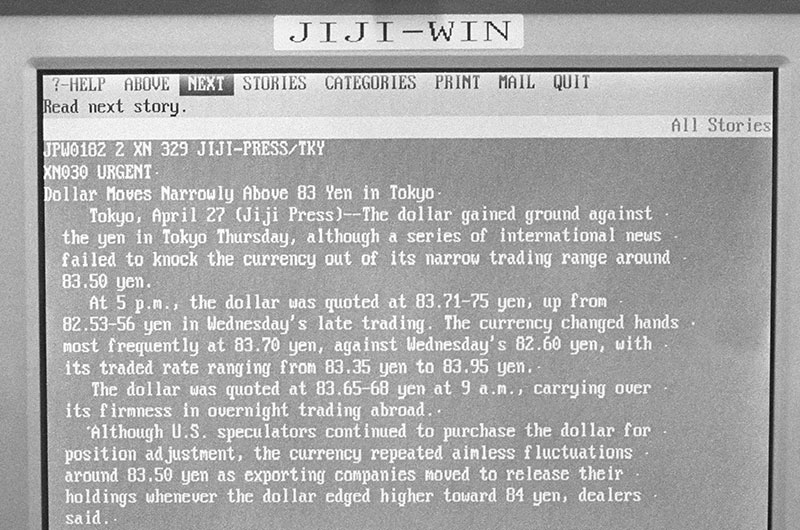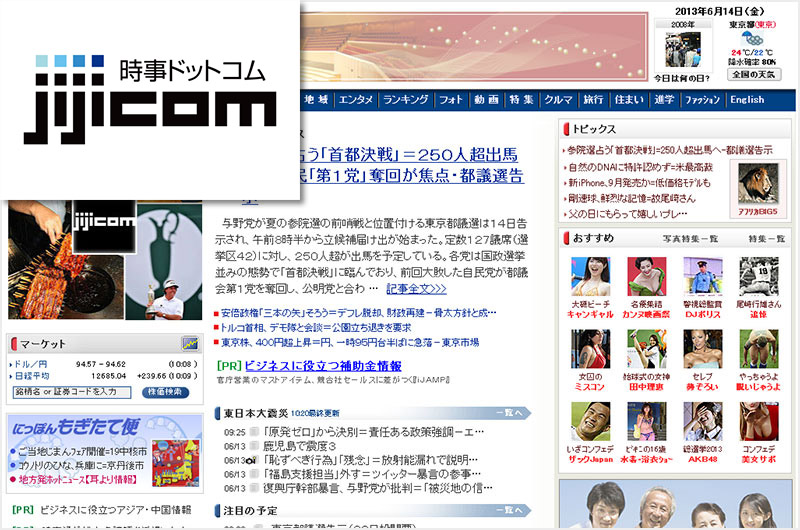 Greeting From The President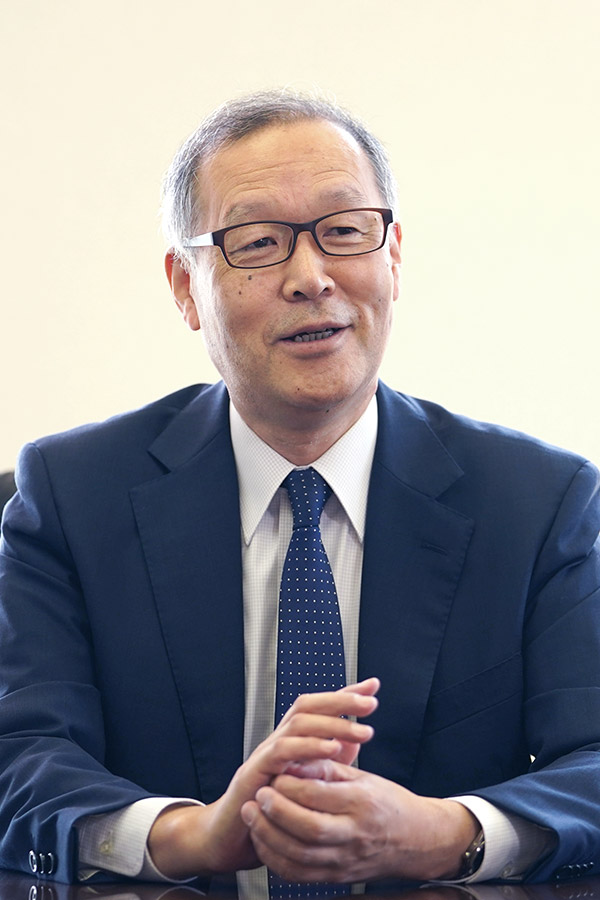 On the Back of Customer Trust
In a modern age in which society and people's sense of values keep changing at dizzying speed, where are Japan and the world heading? In this time of confusion, it is difficult to predict the future despite floods of information. What is needed now is down-to-earth efforts to confirm and reveal facts in a level-headed way. Fair, accurate and speedy reporting is the mission of Jiji Press as it seeks to prosper with the times.

Jiji Press was established in November 1945 in the ashes of Japan's World War II defeat. Ever since we have been constantly reporting the turbulent history of Japan and the world, in accordance with a corporate credo of "bringing world affairs to Japan and giving voice to the Japanese." An enormous number of news articles, photos and videos are filed every day by journalists based in our office network at home and abroad, as well as supplied by partner foreign news agencies. After rigorous editing and proofreading in the newsroom of our head office, the content is provided nonstop to a wide range of customers, including newspaper publishers, broadcasters, government offices, businesses and individual members of the public.

News reporting is not the only task of the Jiji Press group.
A comprehensive media business, the group engages in a wide variety of activities, also including publishing, organizing lectures and seminars, and conducting surveys and research. It also places importance on its solutions business, which provides information services aimed at resolving challenges in response to diverse customer needs. For instance, one corporate customer hopes to display financial market data on its website, while a local government aims to promote a tourist spot to people overseas.

These activities are underpinned by the trust customers place in Jiji Press. In order to remain a reliable news agency, we are determined to strive honestly and stubbornly for fairness, accuracy and speed, and to enhance the value of all our services. This is our way of contributing to society.

President and CEO Katsuhiko Sakai
jiji press around you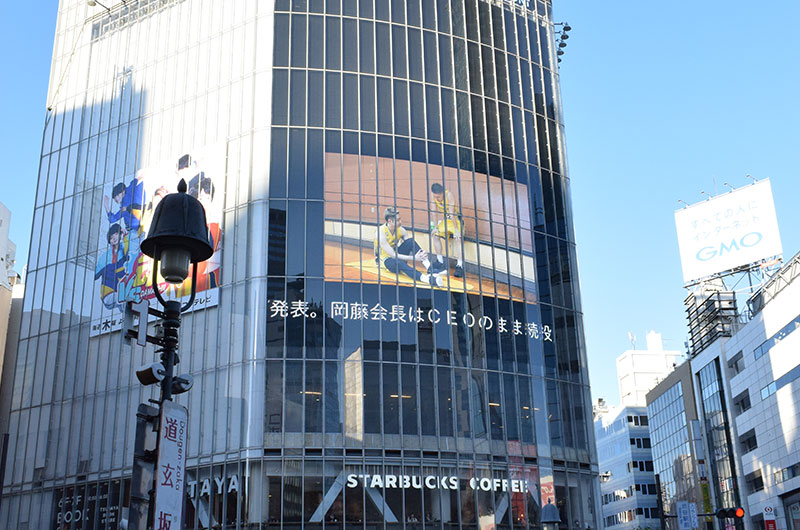 Photo and headline news is displayed on a large-scale digital billboard of the QFRONT commercial building in front of Tokyo's Shibuya Station.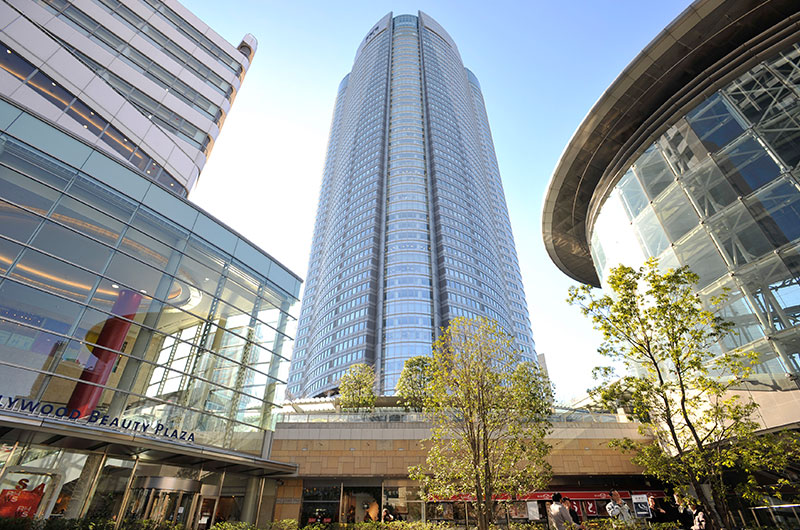 Photo news is displayed in the elevator hall of Mori Tower in the Roppongi Hills complex in Tokyo.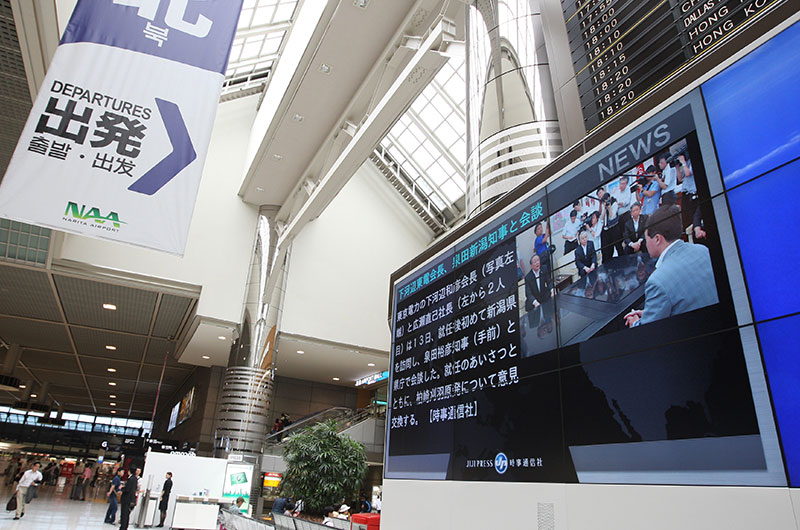 Narita International Airport
Photo and headline news is displayed on digital billboards in the departure and arrival lobbies of Narita International Airport.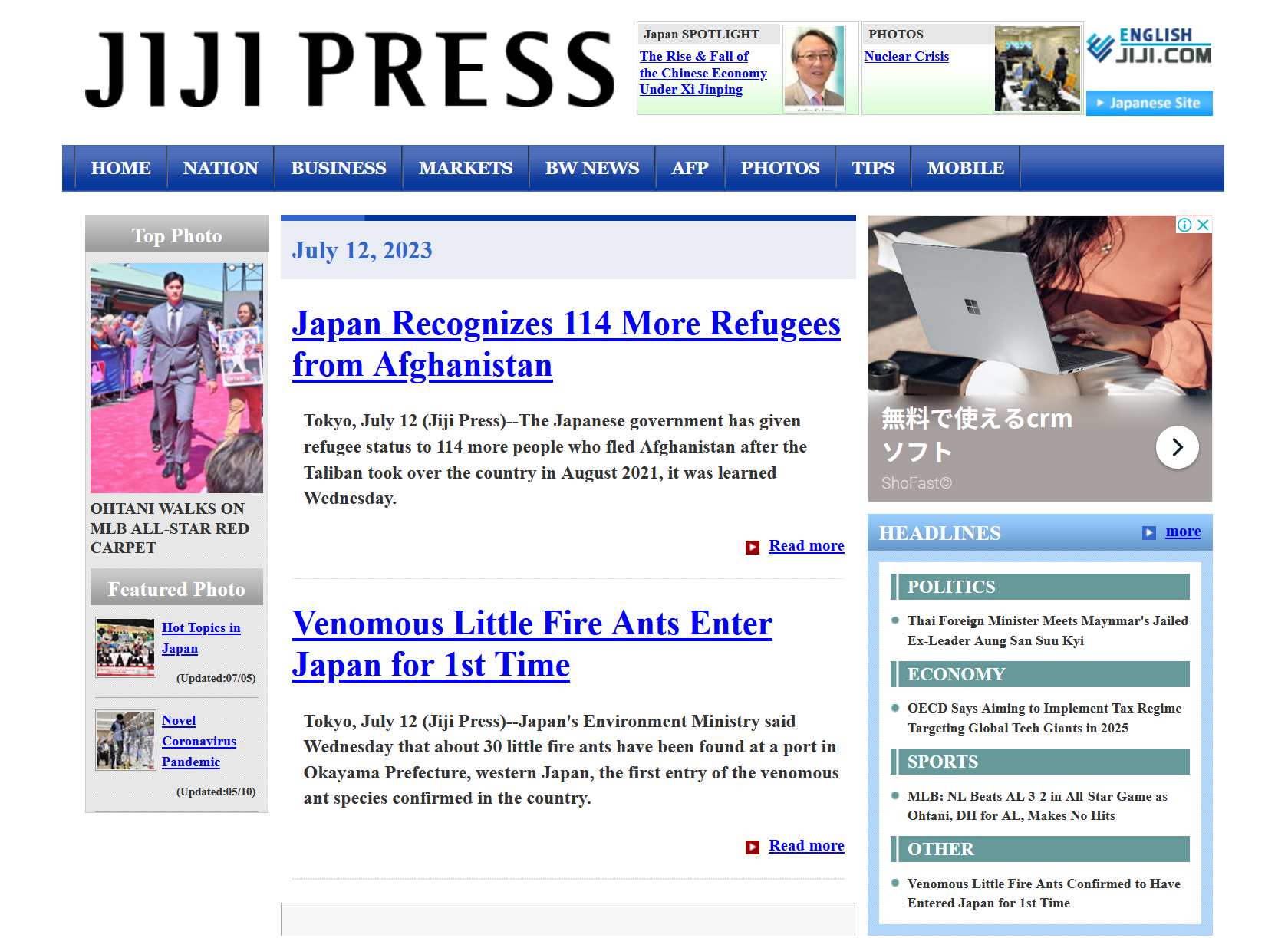 Jiji.com news website, which is viewed by 15 million visitors per month, has an English version (https://jen.jiji.com/).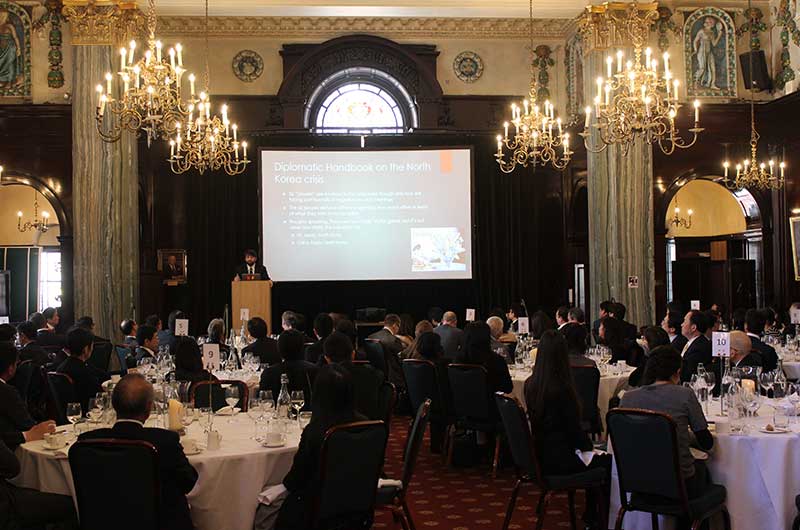 Held in six locations outside Japan, Jiji Top Seminar is a lecture meeting featuring leading figures from specialized fields and political and economic circles.
Major Affiliated News Agencies
Agence France-Presse (AFP)
European Pressphoto Agency (EPA)
Thomson Reuters
Dow Jones
Major Affiliates
Jiji Press Photo (http://www.jijiphoto.jp) has one of Japan's largest photograph databases and provides a range of photos from Jiji Press and Jiji Press Photo as well as from affiliated news agencies, such as AFP and EPA, to newspapers, TV stations, magazine and book publishers and advertising agencies. It also supplies photo news for use on websites and digital billboards.

Established as Pan-Asia Newspaper Alliance (PANA) in 1949, the company changed its corporate name to the current one on October 1, 2013.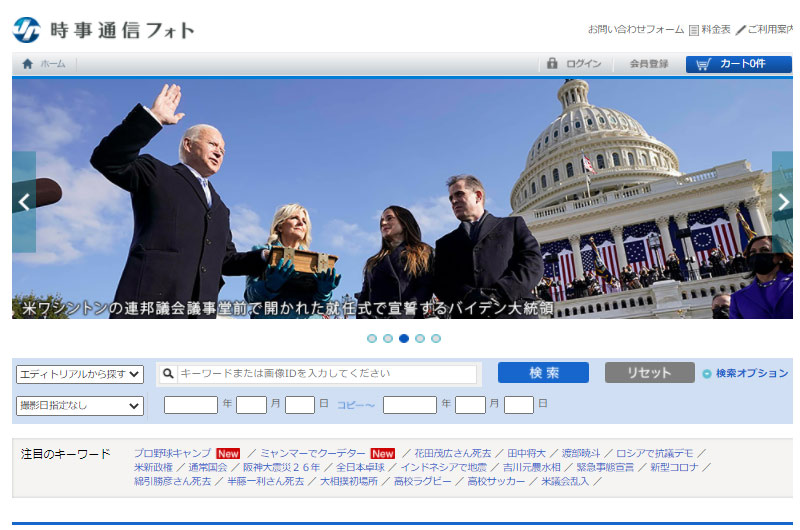 Phone: 81-120-050-858
Fax: 81-3-3542-8163
E-mail: sales@jijiphoto.jp
The Research Institute of Japan
The institute was established as an affiliate of Jiji Press in December 1954 to help build fairness in public opinion.

With corporate managers and representatives of government offices among its members, the institute organizes lectures on a range of topics in Japan and abroad and generates related documents.

The institute, with 150 local branches throughout Japan, holds a total of about 1,500 lecture meetings a year, including 10 national meetings, on current topics for people active on the front lines. It contributes to a correct understanding of the international and domestic situations among its members.

Lecturers include the Japanese prime minister, other influential politicians, the governor of the Bank of Japan, leaders of economic organizations, major countries' ambassadors to Japan and local government leaders, as well as experts from a range of fields, including politics, the economy, international affairs, defense and culture.
operations bases
Jiji Press provides a wide range of up-to-the-minute news and other content to customers from 85 footholds in Japan and abroad.
Jiji Press, Ltd.
HEAD OFFICE
5-15-8 Ginza, Chuo-ku, Tokyo, 104-8178
Phone: 81-3-6800-1111
[Google MAP]